Most of the visitors to this blog know me as a wedding photographer, but many by now know that I've been working on new work this last year, and know that my newest love is newborn photography… for obvious reasons :) I actually have another blog going right now that is mostly visited by my newborn clients and is devoted entirely to my newborn work, and I haven't really publicized yet… for several reasons.
I'm going to be rebranding, and I'm bringing all of the pieces together for myself… a little bit of creative digging, and a lot of soul exploration, and I'm getting closer to my truth… to what I'm truly connected to and what speaks most honestly to me in my heart's core.
This last year has been the most incredible year of my life (and I'm still not finished…). I gave birth to an amazing little person. A real truth speaker, a soulful explorer, a beautiful being that is always, every minute fully breathing his life into being. It has been a wonder and a gift…
I have also worked this entire time right from conception, throughout the pregnancy, and all during his first year. For financial reasons, I had to be earning enough money for an entire family, while caring for my newborn full-time, and it has been an emotional ride. There have been many difficult moments. My son cried incessantly for the first 3 months of his life… which just wasn't in my realm of possibilities when I dreamed my baby into existence. He also didn't really like being held… he seemed to always be uncomfortable and the only thing that helped him was to be bounced gently in his little bouncy chair. So my fantasies of cuddling and caring for my new baby were vastly different from the reality of the time.
Needless to say, my dreams of all the photos I was going to take of my new baby didn't happen. He cried all the time, and I was suffering from extreme exhaustion and stress. The camera only came out a few times, almost always for work. One of the few things that always cheered me up was to look at pictures of newborn babies that OTHER photographers were taking. It was so inspiring… and I will always remember the moment, when at 2-something in the morning I had just fed my baby, and struggled to get him to feel calm and be able to sleep, then couldn't sleep myself, I looked at this session with this beautiful family and burst into tears. My feeling of gratitude at having my healthy son put everything into perspective (we had our own scares and health challenges at the beginning)… and I'm still feeling it right now, exactly the same. It's deeply rooted in my heart, and the photos that Carrie and Brittany took during this session helped that happen. I had been following their work and been inspired by their amazing talent for some time, but this just made it real… after having my own baby and seeing the work they were creating made my heart full.
Since I've started doing newborn photography I've been asked many, many times by other photographers about how I do my sessions and how certain things are achieved. There's something that needs to be said here… and hopefully everyone understands this important point about being an artist and the creative process.
I haven't publicized my newborn work much yet because it's still in it's youth, and there's an important point I need to make here… most everything I've learned so far was taught to me by Carrie Sandoval and Brittany Woodall. They are pioneers in newborn photography. I've looked at a LOT of newborn work, and it's easy to see original talent and true creative process in what they do.
When I saw that Carrie and Brittany, the Baby As Art team, were holding a workshop I jumped at the opportunity. As I mentioned, it's been a financially stressful time at various moments this past year… but I put all of my faith into what I knew in my heart to be something amazing. We literally came back from our journey to San Diego with $0.99. I invested everything, right down to my last dollar in this education.
Now… I keep getting asked by other photographers if the workshop is worth it. "Did I learn anything?" or "Is it worth the investment?"
I'm always shocked each time this is asked… and I think this is because I believe in their work so fully, it speaks to me so clearly as an artist, that the answer seems self-evident to me. I keep wanting to respond with "Have you seen their work?" Because in my mind, if you have seen their work, and you truly are passionate about newborn photography, then it's an easy decision… you would invest your last dollar into this education.
I have to go back a bit and speak to the creative process a bit again, because this is an important issue in all artistic endeavours, including photography. I come from a painting background and my degree is a double in painting and photography, so this influences my views greatly. As creative human beings, we first learn as children how to exist, how to establish ourselves, how to be. We learn by imitating. And it's the same for artists. When you first learn to paint, your instructor often requires you to copy a famous work. This is how we learn. Now this is a hotbed of contention for some in the world of photography, whereas it's an accepted part of educating yourself as a painter.  And I think it's because there's a lot of 'young' (as in new) photographers out there in this digital age who are learning by looking at other photographers' work and copying what they are doing, but there's no acknowledgment of the source of learning, nor a respect for the learning process. I know there's a lot of other aspects to this that I'm not going to address here, but I want to say a couple of things about this.
It is a compliment to your work and you as an artist when another person imitates what you are doing. If this was painting, you would be called a master painter, and the copier would be a student.
It's unfortunate that many photographers are adopting the stance of being a photographer from a place not of artistic passion and a clear connection to their heart, but out of fear and a competitive anxiety about their business.
Out of competitive anxiety, we have lost the ability to see clearly the creative process and embrace our learning and our immaturity and our beautiful fumblings. For if we were to truly embrace our learning, as we would support our children when they learn, and honour the process of copying the masters instead of trying to assume a stance of masterfulness with our first 10 photos, then I think it would generate true humility and a genuine re-connection to our hearts and our work.
So out of my deep love and passion for newborn photography, and to honour my teachers, the pioneers and masters who have taught and inspired me, I'd like to offer this:
If you are truly passionate about newborn photography, listen to your heart and  GO TAKE THIS NEWBORN WORKSHOP. NOW. Invest your last dollar if you have to. Return home full of new skills and inspiration, and go about the task of copying what the masters have done, and eventually you will find your own voice, your own style, and your own masterfulness. But embrace this part of the creative process, your learning and your development, and don't fear the fumblings and the lack of true originality at this early stage… it takes years to develop true originality, and some argue that it doesn't exist. I think what's important is that we honour our sources of learning and inspiration, and if you remain humble and connected to your heart, you are already master of your dreams.
So, for my own process, here's a re-post of a recent shot I took of a brilliant, shining little star named Jillian…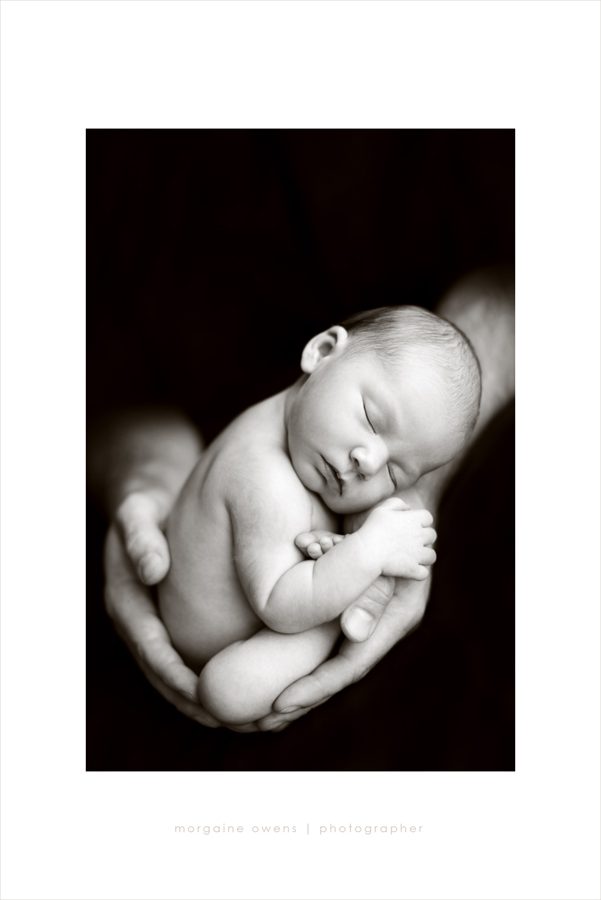 and here's the inspiration for it's creation, taken by Carrie Sandoval. Thank you Carrie and Brittany for all of the inspiration and amazing generosity you have shown with your knowledge and your students at your workshops. Learning from you has been priceless…